Auto Club Speedway Near Ontario California
Head down to Fontana, California for a day at the Inland Empire's premier motor sports facility. Located just minutes from Ontario, CA and the Ramada Ontario Airport hotel, the Auto Club Speedway is the spot to catch exciting sports car and motorcycle racing events. The Auto Club Speedway was formerly known as the California Speedway until a name change in 2008.
Auto Club Speedway Events.
The Auto Club Speedway is home to the NASCAR Spring Cup series. This world-class racing track also hosts other motor car events such as the Auto Club 500, Pepsi 500, AMA Superbike and the NASCAR Camping World Truck series. Head down to the speedway for a race car driving class or car club event.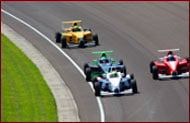 Auto Club Speedway Track.
The 2-mile D-shaped oval track has been entertaining NASCAR fans with countless races and motor sport events since 1997. This 75-foot wide asphalt track offers various layouts depending on the event and features a pit lane, parking ares and concrete pit stalls. The Auto Club Speedway also features a quarter mile championship dragstrip known as the Auto Club Dragway. The Grandstand holds 36,030 attendees in the upper grandstand and 42,490 in the lower.
Auto Club Speedway in the Media.
The Auto Club Speedway has seen its fair share of media attention. It's picturesque, mountainside location in Southern California's Inland Empire makes it an ideal spot to film TV commercials, TV shows and films. Films such as The Bucket List, Heribie: Fully Loaded and the 2000 remake Charlie's Angeles feature Fontana's Auto Club Speedway.