Ontario California Convention Center Hotel
Host your next event at the Ontario Convention Center. Located in Ontario, California, the Ontario Convention Center provides multi-purpose space for trade shows, corporate events, exhibits, social gatherings and more. Visitors will be amazed by this modern facility complete with eye-catching vaulted glass walls, state of the art technology and catering services.
Ontario, CA Convention Center.
The Ontario Convention Center is a short walking distance from the Ramada Ontario Airport hotel and just two blocks from the Ontario International Airport. This modern convention and event center is located in the heart of the Inland Empire making it easily accessible to and from the Los Angeles area and other Southern California regions.
Our Ramada Ontario Airport Hotel is the best place to stay for california bar exam and any church event.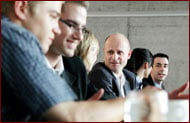 Ontario Convention Center Facilities.
The Ontario Convention Center offers flexible facilities for a wide range of functions. Facilities include 225,000 square feet of event space, a Main Exhibit Hall, Ballroom and 24 individual meeting rooms.
All rooms are fully equipped with high-speed technology and state of the art audio-visual support.
Ontario Convention Center Catering.
The Ontario Convention Center offers catering services for all event types. Event attendees will enjoy quality food selections, custom menus and concession stands located throughout the convention center. Hosts will enjoy menu tastings and personalized catering consultations to ensure all the food and beverage options are exactly the way it should be.